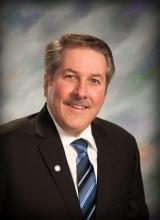 Bio:
A Professional Engineer who graduated from the University of Waterloo in 1987 and has been a member of PEO since 1990. Luc returned to Timmins upon graduation and has worked in consulting, industry (Tembec, Glencore and OPG) and government (City of Timmins and Ministry of Natural Resources and Forestry).
His career path has allowed him to gain valuable experience in project management, capital asset management, budget preparation, succession planning and human resources.
A passionate member of the community, Luc has been a member of several organizations such as Timmins Chamber of Commerce, Cochrane Board of Trade, Ontario Soccer Association and Good Roads Association. He was appointed to TDH Board of Directors on March 24, 2021. In his spare time. Luc enjoys life with his wife Lisa and his two sons and stepson. We like travelling, curling, golfing, walking and spending time with family and friends.