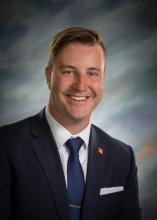 Bio:
Kraymr Grenke is currently the Senior Consultant for the Commerce Management Group. Previously he served as Economic Development Officer for the Wabun Tribal Council and a Staff Accountant for Baker Tilly SNT LLP. Kraymr studied at Laurentian University and The University of Western Ontario.
For the City of Timmins, Kraymr is the Vice-Chair Commissioner of the Timmins Police Services Board, Executive Board Member of the Timmins Economic Development Corporation and the Vice-Chair of the Committee of Adjustments.
As an Executive Board Member of the Timmins Chamber of Commerce, Kraymr actively contributes to the Governance Regulation and Policy Review and Municipal Affairs Committees.
Born and raised in Timmins, Mr. Grenke is eager to contribute to his growing home-town community.
In his spare time, Kraymr enjoys yoga, travelling, reading, and being a member of Spruce Needles Golf Club. 
Mr. Grenke was appointed to the Board of the Timmins and District Hospital on June 23, 2017.