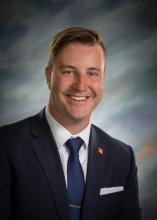 Bio:
Kraymr Grenke is currently the Senior Business Consultant for the Commerce Management Group. Previously he served as Economic Development Officer for the Wabun Tribal Council and a Staff Accountant for Baker Tilly SNT LLP. Kraymr studied at Laurentian University and The University of Western Ontario.
For the City of Timmins, Kraymr is a Board Member of the Timmins Police Services, Timmins Economic Development Corporation and a member of the Committee of Adjustments.
As a Board Member of the Timmins Chamber of Commerce, Kraymr actively contributes to the Governance Regulation and Policy Review and Municipal Affairs Committees.
During his tenure at Laurentian University, Mr. Grenke became a strong advocate for the needs and wellness of students in Sudbury, and across the country. This drive led to his successful election as President and Chief Executive Officer of the Students' General Association, going on to represent 6,000 students with a multi-million dollar budget on Sudbury's Campus. Throughout his term, Mr. Grenke served as a Senator on the University Senate and as a Governor on the Laurentian Board of Governors. Most recently, Mr. Grenke acted as Chair of the Laurentian University Student Centre Steering Committee, leading the conceptualization and construction of the new 20,000sq.ft. Student Centre. Kraymr also sat on committees focusing on program requirements, retention, student services, and mental wellness. As a varsity student-athlete, Mr. Grenke chaired the Laurentian Athletic Advisory Council and was the captain of the Laurentian Voyageurs' Men's golf team. He is currently an elected Advisor on the Laurentian University Strategic Planning Steering Committee for 2018-2023. Mr. Grenke is also an appointed member of the Audit Committee for Laurentian University.
Furthermore, Mr. Grenke had the privilege of serving as the Vice-President of Finance for the Ontario Undergraduate Student Alliance. In this role, with a primary focus on advocating for the needs of students to stakeholders at Queen's Park and the Post-Secondary Education Sector, he represented 140,000 students from 8 of Ontario's largest institutions. What's more, Mr. Grenke was an advisor for e-Campus Ontario, developing a wide variety of resources to foster innovation in post-secondary online education in Ontario. 
Born and raised in Timmins, Mr. Grenke is eager to contribute to his growing home-town community and looking forward to transferring the knowledge and experience gained from his time as an advocate for post-secondary education to this new opportunity in the Health Care sector.
In his spare time, Kraymr enjoys yoga, travelling, reading, and being a member of Spruce Needles Golf Club. 
Mr. Grenke was appointed to the Board of the Timmins and District Hospital on June 23, 2017.