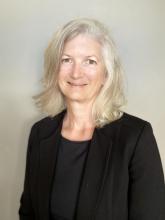 Bio:
Kathleen (Kate) Fyfe is the President & CEO of Timmins and District Hospital, a community, referral, academic and research hospital located in Northern Ontario. With over 25 years of senior executive experience, Kate brings a wealth of experience in acute care, mental health and health system settings. Throughout her career, Kate has worked collaboratively with system partners to improve accountability, performance, access to care and
quality outcomes. Kate has led several peer reviews and hospital improvement plans. While focusing on improving access to quality care, Kate has also led a variety of transformational projects related to care delivery and the implementation of broad structural changes to our health system. Additionally, her executive experience spans a wide range of business processes including complex financial planning within a provincial framework, human resources, quality systems, information systems and robust decision support systems. 
A champion of innovative collaboration, Kate has served on a number of transformative committees overseeing health system redesign including the Hospital Service Accountability Agreement Committee,
Multi-Sector Service Accountability Agreement Committee, Quality Advisory Committee, Long Term Care Recommendation Committee, Home and Community Care Experience Survey Expert Panel, Northern Health Equity Advisory Committee, Health Equity Expert Panel.  
An active member in her community, Kate has provided leadership and guidance on the COVID-19
Municipal Emergency Response Team, and currently sits on the Board of Timmins Academic Family Health Team. A true Northerner, Kate continues to focus her energy on building stronger, equitable and healthier local communities and improving population health outcomes across our health system. 
Kate holds a Bachelor of Commerce degree from the University of Ottawa, is a Certified Professional Accountant / Chartered Accountant and has completed the Rotman Advanced Health Leadership Program.