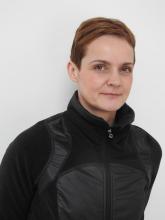 Bio:
Kathryn (Kate) Durst is originally from Kapuskasing, but has resided in Timmins for over a decade.  Kate is a business owner and co-owner of Discover Fitness/Discover Performance Inc.  She is married to Eduardo and is mom to two amazing sons. 
She holds a Bachelor of Arts degree as well a Master in Education.
Kate enjoys working within the community - helping others reach their own personal goals of health and wellness.